East Moline School District will offer a one-day in-person registration for those families needing assistance with online registration.
Location: Glenview Middle School (East Gym, lower gym facing the back parking lot)
Schedule: August 3, 2021 11:00 a.m. - 7:00 p.m.
Interpretation will be available in the following languages: Spanish, Arabic, Chin, French, Ewe
What you will need: 2 documents proving residency (phone, electric, water, gas, cable bill, lease, mortgage within the last 2 months with address)
Students new to the district will need a birth certificate and school physical examination. More information regarding an on-site clinic with school physicals will be coming soon.
If you have already registered online, you do not need to attend this event. Thank you!
IMPORTANT: Students not completely registered by August 3rd will be unable to start school on August 11th.
Community Health Care and EMSD will be hosting on-site school physicals at Glenview Middle School Tuesday, August 3rd from 11:00 am - 7:00 pm, during in-person registration. As a reminder, all entering Early Childhood, Kindergarten, and 6th-grade students must have updated school physicals. This is also a great opportunity for anyone who is in need of a sports physical. Parent/guardian must be present and bring insurance information.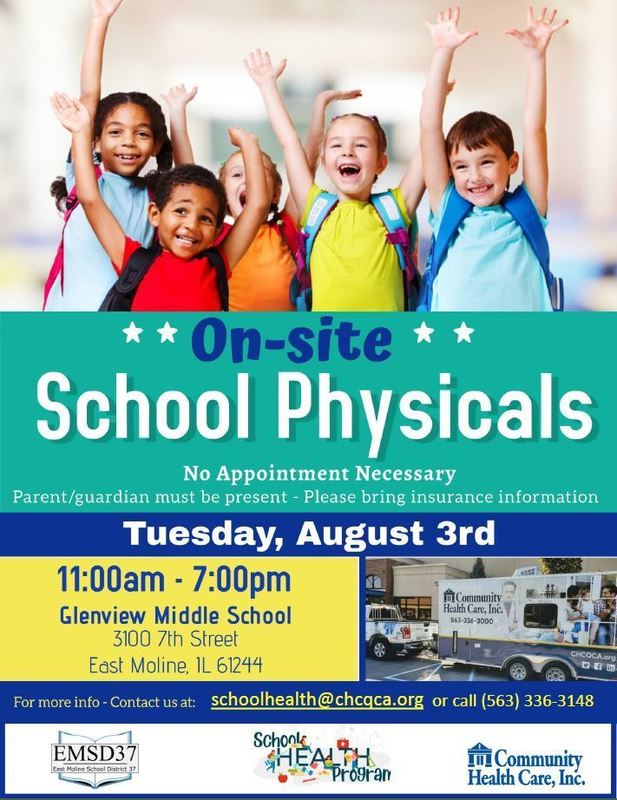 Online New Student Registration
Online Returning Student Registration