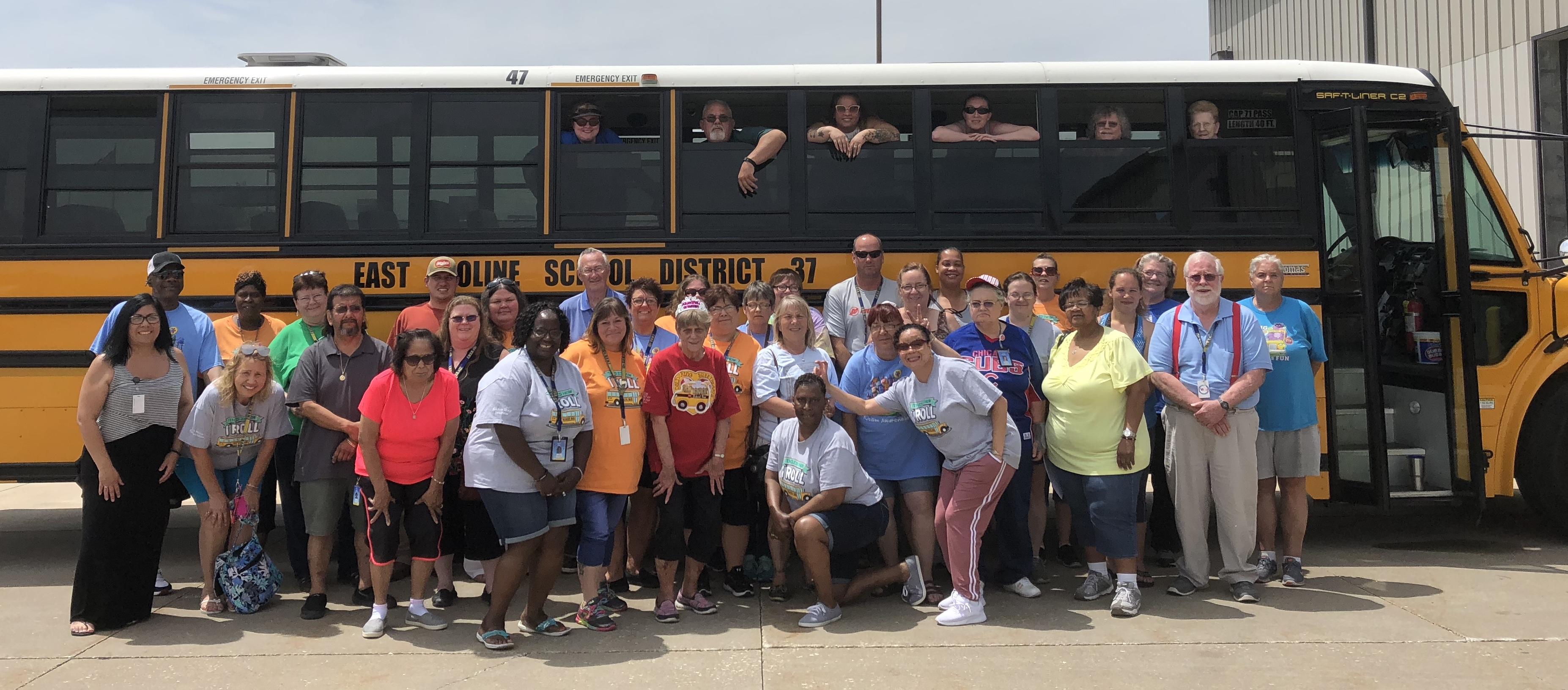 Safely transporting over 2,300 students from home to school and back again everyday on 120 different routes is a big job and it's a job that the 65 staff members from the East Moline School Transportation Department take very seriously. Our department not only transports students to East Moline schools, but we also follow five different area school calendars.
Our professional bus drivers go through rigorous training and screening before they ever transport children. Before being issued the required school bus driver permit. The driver must obtain a class B commercial drivers license (CDL), a driver completes 12 hours of behind the wheel training, fingerprinted and pass a background check. Each driver must also pass a physical that includes testing for drugs and alcohol and then is randomly tested for drugs and alcohol throughout their career. Training in safety, state laws concerning school buses, and how to deal with problems and issues on the buses continues throughout each school year with monthly meetings and training sessions. Crossing guards and bus monitors also get specialized training in order to do their jobs safely and efficiently. We are proud of the diversity of our school population and serve children of many different cultures. Our training includes learning about different cultural concerns.
Drivers teach students bus safety rules and then each driver reviews and enforces the rules on his or her bus. Bus service is free for kids living over 1½ miles from their school. Riding the bus is a privilege not a right. Making it a safe ride is the main focus of each driver. We also participate in a all school emergency bus evacuation drill with all children they learn how to evacuate a bus in a safe manner.
Our highly qualified mechanics keep our fleet of 30 buses in excellent repair. Each bus is given a daily pre-trip inspection by the driver to insure that everything, including all the safety equipment, is in proper working order before leaving to go out on a route. Any problems are immediately reported to the mechanics for speedy repair.
For Families
Transportation Information Form 23-24
For Staff
The State of Illinois has asked us to make this curriculum available to all district bus drivers.
Click this link to download and/or view online.