EMSD online registration will open on Monday, July 18th. Click HERE to begin.
In-person registration will be held at Glenview Middle School (3100 7th Street, East Moline) on Wednesday, July 20th from 11:00am to 7:00pm.
Students new to the district will need a birth certificate and school physical examination.
Two forms of residency are REQUIRED for all students.
-Email (or bring with you to in-person registration) 2 of the following documents to your student's school. Telephone, cable, gas/electric, water bills, lease, or dated rent payment with address.
Click HERE for school supply lists.

Have you scheduled your child's physical? The SBHC Team will be with EMSD at our July 20th in-person registration!
- For on-site physicals call (563) 327-2111
- For in-clinic physicals call CHC at (563) 336-3000
- Consent forms can be completed in advance at https://www.chcqca.org/schoolhealth
*𝗦𝗰𝗵𝗼𝗼𝗹 𝗮𝗻𝗱 𝗦𝗽𝗼𝗿𝘁𝘀 𝗽𝗵𝘆𝘀𝗶𝗰𝗮𝗹𝘀 𝗮𝘃𝗮𝗶𝗹𝗮𝗯𝗹𝗲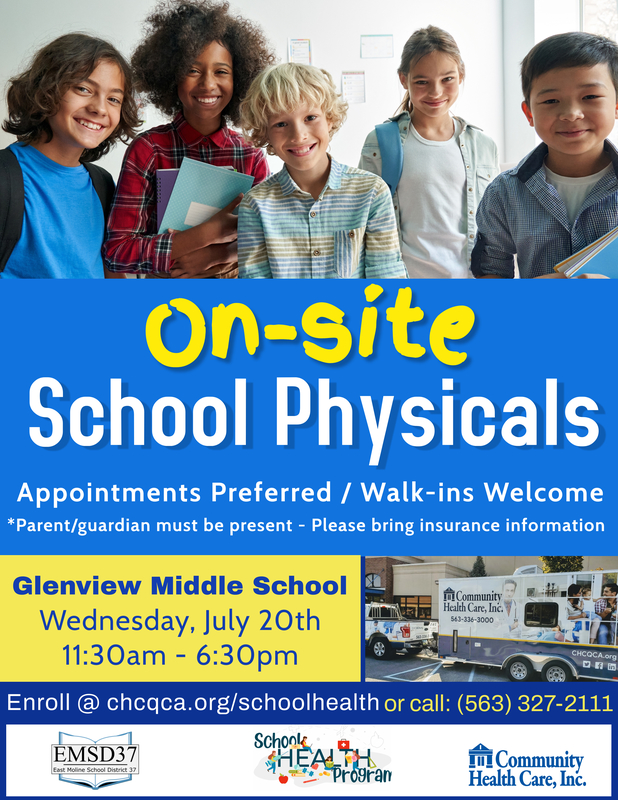 The first day of school is Thursday, August 11th. There will be a one-hour early dismissal. Click HERE for a printable file of our school year calendar.
EMSD School Hours 2022 - 2023
Glenview 7:55 - 2:25
Elementary Schools 8:30 - 3:00
Early Childhood 8:30 - 11:00 & 12:00 - 2:30

Be sure to download the EMSD app!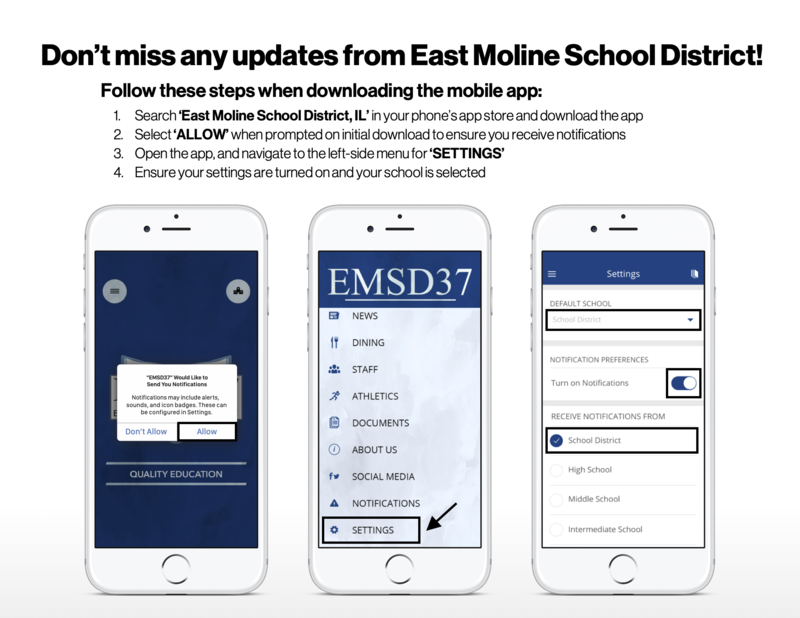 Follow us on Facebook and Twitter!
EMSD: Facebook, Twitter @EMSD37
Glenview: Facebook, Twitter @GlenviewEMSD
Bowlesburg: Facebook, Twitter @BowlesburgEMSD
Hillcrest: Facebook, Twitter @HillcrestEMSD
Ridgewood: Facebook, Twitter @RidgewoodEMSD
Wells: Facebook, Twitter @WellsEMSD
East Moline Early Learning Center: Facebook, Twitter @PreKEMSD